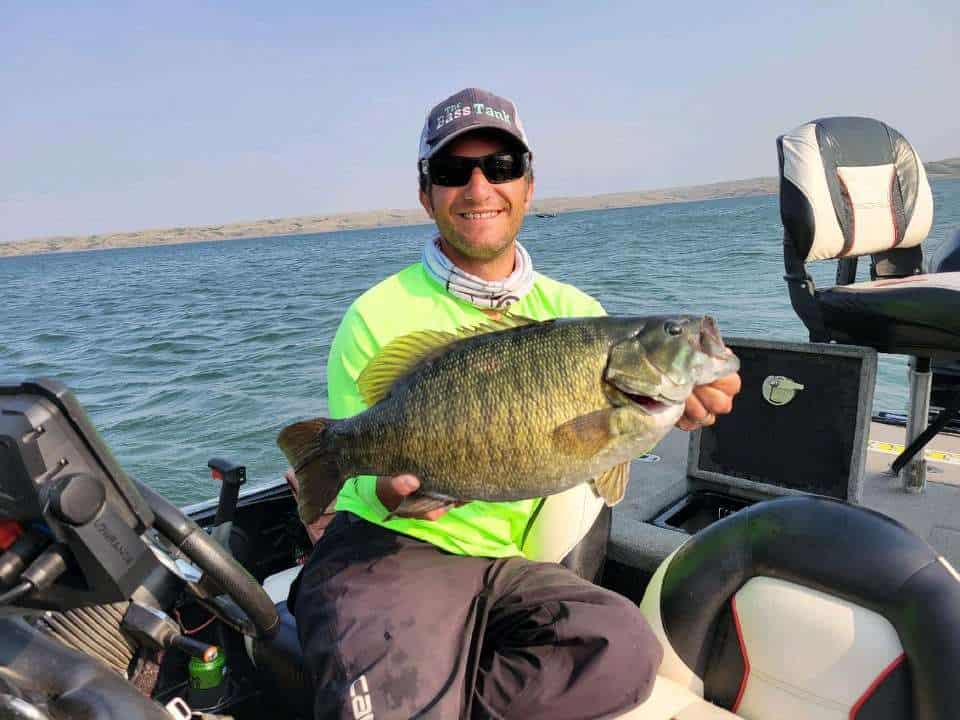 State Record Smallmouth Bass
Since about 2008, South Dakota angler Troy Diede has come to love what Lake Oahe has to offer, calling it his favorite lake in his home state. Now, the expansive Missouri River reservoir represents one of the most impressive accomplishments of Diede's fishing career.
On July 16, during practice for a championship event, Diede landed a 20.75-inch, 7 pounds, 4.7-ounce smallmouth bass on an Eco Pro Tungsten Ned Rig that was not only his personal best but broke the South Dakota state record for heaviest smallmouth bass. Diede's smallmouth beat the previous state record from Horseshoe Lake by a little more than an ounce.
The bass was weighed on official scales at South Whitlock Resort and confirmed by state wildlife officials before Diede returned it to the exact spot he caught the record smallmouth bass.
"You couldn't help but open your jaws and big-eye this thing. It was nuts," Diede said. "I had no idea it was coming and I had no idea what a state record meant. But I was very humbled to be able to catch a fish like that and have an opportunity to have a record fish catch. It is something new on the resume and I'm blessed. I love the sport, whether it is going out and guiding or taking a friend out or being able to take dad and the kids out fishing."
Diede qualified for the 2015 Bassmaster Classic at Lake Hartwell through the B.A.S.S. Nation and is competing at the 2021 TNT Fireworks B.A.S.S. Nation Northern Regional at the Upper Mississippi River in La Crosse in hopes of qualifying for the Classic again.
The day before his state record smallmouth bass catch, Diede was struggling to find bites during his practice time and decided to switch things up at the end of the day. Within 20 minutes of arriving in his new area, Diede hooked into a 6.39-pound smallmouth, a fish that represented his personal best at the time.
"I got it closer to the boat and I was like, 'Holy smokes this thing is huge.' I put it on the hand-held scale and it was 6.39 pounds. It was the biggest smallmouth I've ever caught," he said. "At that time another buddy of mine and his co-angler came up and asked if I caught a walleye. I told them no, it was a smallmouth. I didn't really expect to be catching a fish like that in that area. My friends were kind of jabbing at me because I was a little short of my dad's personal best. I was still thankful for a catch like that."
That night, Diede said he studied his electronics and searched for areas that were set up similar to the area he caught his big fish that afternoon. The next morning, he set out for one of those waypoints, an area about 100 yards away from where he caught the 6-pounder.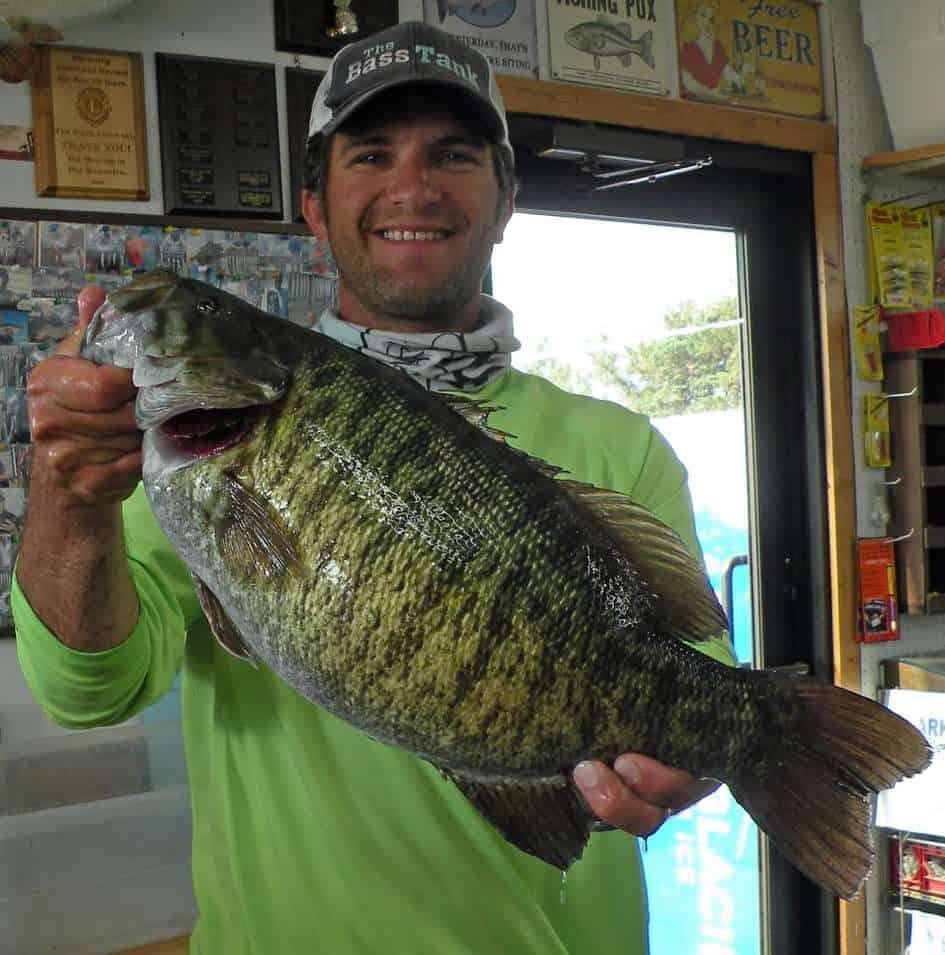 "I didn't even make 10 casts and I hooked into another good-sized fish," Diede said. "After about 90 seconds I realized it had the same similarities as that 6-pounder. It was fighting the same way, it's taking me forever. I only had 7-pound Gamma line on. It started running out of gas after about 2 minutes and I didn't realize how big it was until I picked it up. I belly-landed it like a football and held it under my arm and I was in shock. I held it out away from my face and I thought it might be a high 6. I grabbed my handheld scale and it was bouncing between 7.08 and 7.42, it was really choppy and wavy so I couldn't get a good lock on it. I was going to run around the corner where I saw my buddies where it was a little calmer. In the calmer water, it was 7.23. I knew the state record was 7.3 on Horseshoe, which is a popular lake up here."
After calling a friend to weigh the fish on a different scale for verification, Diede made the call to have it officially measured and weighed.
"It stayed in a highly oxygenated livewell the majority of its time," he said. "I had to arrange a meeting with the fisheries biologist to confirm it and then we filled out some paperwork, took some pictures and I ran it back out to the same waypoint I caught it, took a little video, and let it go."
Since catching his record smallmouth bass, Diede said the most rewarding part has been seeing how many people have reached out and congratulated him on the accomplishment.
"I think it's realizing all the different people that support me," He said. "My family back home is huge. My kids were excited for me and my wife is a huge supporter. The support I have outside of that as well. All the people I've run across at all these tournaments that have reached out and messaged me. The coolest thing about it is knowing how many people support what I do and continue to encourage me."
Diede's state record smallmouth bass also came several days before B.A.S.S. officials announced the Bassmaster Elite Series would return to Lake Oahe for the 2022 season, giving Bassmaster anglers and fans an idea of what to expect from that event next year.
"When the Elite guys come up here next year, it's going to show out a lot better than it did a couple years ago," Diede said. "There's not much vegetation, but if you want to throw spoons you can, you can deep crank, Carolina Rig, you can drop shot and do about anything in the finesse category. A lot of guys throw magnum Tubes on 3-4-oz Football heads. When topwater is going, you can pick out a bigger fish."
As for his state record smallmouth bass, Diede doesn't believe it will hold up for long.
"The river is getting really healthy so I don't foresee it holding out too long," he said. "The last record smallmouth bass made it about 6 years. Honestly, I wouldn't be surprised if it gets beat by the end of the year. It's just kicking out giant fish right now. When you hear about multiple 6-pounders being caught, you know there are lots of 7's out there as well. July isn't the prime time to be weighing in a record smallmouth bass. These fish are kind of on the mend from the spawn, which just ended two or three weeks ago."