WHAT IS IT?
Berkley Power Blade Spinnerbait
WHAT SETS IT APART?
Berkley jumped into the spinnerbait game headfirst with an entire Power Blades lineup covering various blade combinations. The Power Blade series features three compact versions with weight incorporated into the hook's shank. Each Power Blade Spinnerbait is equipped with top-notch components, including a razor-sharp Berkley Fusion 19 O'Shaughnessy style hook, durable wire, 3D eyes, premium blades, molded bait keeper, and a hand-tied PowerBait infused skirt material. Also, the weight of the spinnerbait is printed on the head of each bait for easy identification and selection.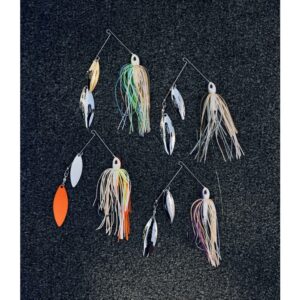 HOW DO I USE IT?
Every style of Power Blade offers a wide variety of colors, with anglers covered in different water colors and different forage bases. Regardless of where you fish, there's a Berkley Power Blade that will fit your needs – double willow blade, tandem blades, single Colorado, Indiana blades, painted blades, and even a separate compact series that is perfect for those situations where the bass are being stingy. Also, the range of colors perfectly matches the variety of blade combinations.
HOW MUCH?
$9.99
WATCH BERKLEY POWER BLADE SPINNERBAIT REVIEW
MORE INFORMATION:
Berkley Power Blade Spinnerbait
ANGLER'S INSIGHT:
Who isn't a little reluctant to trust a new spinnerbait, but the new Berkley Power Blade series of spinnerbaits crosses off every question of hesitation. A spinnerbait has many moving parts and a number of components that all matter a lot. If one component is no good, it essentially ruins the spinnerbait. However, the attention to detail in this spinnerbaits is unbelievable.
When you look through each style of spinnerbait in the series, it becomes very apparent that many different SKUs cover every situation under the moon. Whether you want to burn the bait near the top of the water column or slow roll it down a log in muddy water, there's a spinnerbait in the Power Blade lineup that will get the job done.