It's time to gear up for the ice-fishing season. If you're serious about ice fishing and want to catch more fish, this post is for you.
We'll go beyond the basics with some tips and direction for those who demand more of themselves when it comes to hauling fish through a hole in the ice. And maybe give you a few ideas for your Christmas list. Let's get started.
Choose Reliable Ice-Fishing Gear
The first tip is to buy good, reliable gear. You'll find that you usually get what you pay for. Investing a modest amount in quality tackle will make your days more productive and ensure that you don't waste your trip wrangling problematic equipment.
Ice-fishing gear doesn't have to be complicated, but finding what works best for you may require a few trips and a willingness to experiment.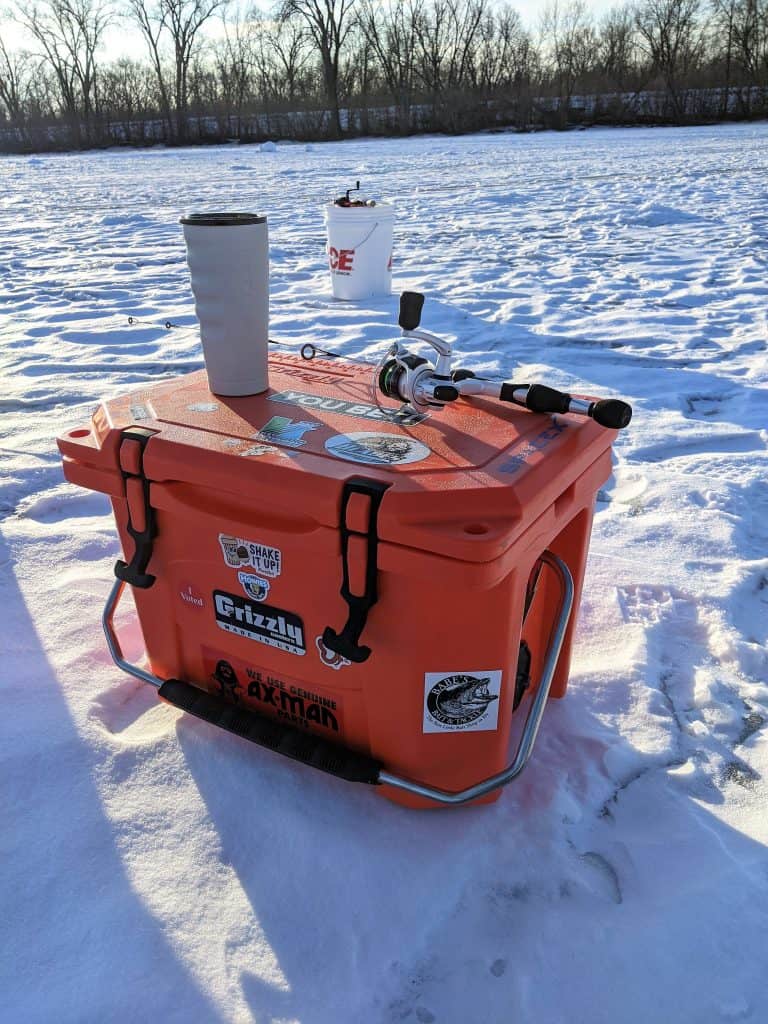 It is recommended to tailor your gear to the size and behaviors of the fish you want to catch. For example, if you want to catch lake trout, you'll need a rod, reel, and line that are heavier than what you'd use for bluegill.
Rods and reels should also be matched to their assigned task. Even though you generally match your gear to a species, you actually match it more to the bait you intend to use rather than the species you plan to catch. For example, you can land a 10-pound fish on a noodle rod, but you can't effectively work a 3/8-ounce lure with it.
For most panfish (e.g., bluegill and yellow perch), you'll rarely need to go heavier than a 4-pound line. Possibly more important than the line weight, though, is its diameter and behavior in cold weather.
As you learn about the characteristics of various types of fishing line, you'll find they all have strengths and weaknesses.
We all have slight preferences that can be determined only through experience. Some like monofilament line, other anglers like braids, and some strictly use fluorocarbon. Rarely is one type of line best for all conditions. It really comes down to what you are confident in.
Strive to find a line that is small in diameter and has low spool memory. This will have to be a try-it-and-see moment for most people.
Make Use Of Electronics
If possible, make use of electronics, particularly sonar. Nothing will build your confidence more than knowing there are fish below you. And nothing will make you a more successful angler than having that confidence.
There are many different sonar (fish finder) options available to ice anglers nowadays. Vexilar is the go-to and industry staple, but other manufacturers make great sonar units too.
Some are better than others, but any of them are better than not using one at all. Find one that suits your fishing style and fits within your budget, and you'll wonder how you ever got along without it.
Above all, don't be intimidated by these units. Watch a YouTube video or two, practice with them for a couple of hours on the ice, and you'll be completely competent in their use. Having a good sonar unit can really improve your ice-fishing success.
Other electronic aids include Global Positioning Satellite systems and underwater cameras. Smartphone apps have started to make themselves available as well, for example, the Garmin Striker Cast. This device allows for year-round use. Being able to actually cast the transducer out into open water and using Bluetooth technology to provide the feed onto your mobile display. The Garmin Striker also allows for ice-fishing sonar/flasher use providing near similar detail as a Vexilar would.
Utilize A Quality Cooler For Bait & Storage
Investing in a quality hard-sided cooler, from Grizzly Coolers, Kenai Coolers, or Yeti. Can be very advantageous for more than just ice-fishing. Repurposing your cooler for not only food and drinks but all of your tackle, tip-ups, gloves, hats, etc. It also serves fantastic as a seat while out on the ice. The advanced insulation of the cooler will keep its contents from freezing in the cold.
The other advantage of a premium cooler while ice fishing is for bait. There is not a better, more secure, durable, insulated way to transport live bait than that of a hard-sided insulated cooler. Not to mention it is perhaps one of the best ways to keep your bait alive while ice fishing. No more worrying about minnows spilling out, freezing or the bait bucket getting stepped on.
Due to the advanced insulation of these coolers the bait doesn't freeze, they stay cool, which allows the bait to use less oxygen and stay alive and healthy longer. You can also add a portable aerator to your cooler to extend the life of the bait for weeks.
Take Advantage Of Technology
If you really want to dig into the waterbody you plan to fish, various technological tidbits available today can help a lot during the winter months:
Aerial views of waters
Water level fluctuations tracked over time
Inflow and discharge of popular reservoirs
GPS points you saved while fishing in the summer
Resources are readily available online: the Bureau of Reclamation has charts that track reservoir water levels, Google Earth has fabulous aerial photos in time series, and commercial ventures (such as Navionics) have sample bathymetric maps for some local waters.
With just a bit of looking, you can find some great tools to supplement the DWR's online stocking and fishing reports.
Some additional ice fishing tips
Ice fishing is your ticket to catching some of the biggest fish of the year! The ice allows you to access areas you'd need a boat for during the rest of the year.
Be mobile. Don't ever, ever, ever stay somewhere that is not producing fish. If I'm not getting bites in 15 to 30 minutes, I'm off to find a new spot.
Learn a bit (or more) about the behavior of the species you want to catch.
Learn from slow days by keeping a journal and noting what did and didn't work. If you tried a particular technique, for example, and it didn't work, note the conditions that day. It's possible the technique might work under different conditions. Also, note your 'near misses' (e.g., the day anglers around you hooked fish using a bait you didn't have, or realizing you should have packed up and moved to a new spot sooner) and look for ways to improve. Keeping a journal is a great way to keep you from making the same mistakes on subsequent trips.
Don't follow "hot bites" on the Internet. Find your own hotspots. There's as much misinformation floating around message boards and fishing reports as good information.
Learn to fish by fishing with experienced ice anglers, not simply reading the message boards or fishing reports mentioned above. Don't expect it to all happen at once: pay your dues, and earn a spot in a network of experienced anglers. Once it becomes obvious you can 'walk the talk,' experienced anglers will see value in what you have to share and will begin to share information with you more freely. Nobody starts out as a Jedi Master: you must be a Padawan first!
Have a basic understanding of what the bottom of the lake you want to fish looks like. Learn the depths at various locations and where the humps, ridges, and changes in the substrate are located. Pairing that information with the preferences and behaviors of the fish you want to catch can really increase your catch rate.
Develop a basic understanding of limnology (the scientific study of freshwaters, such as lakes and ponds, with reference to their physical, geographical, biological, and other features).