There might not be a finer season to explore freshwater fisheries than in the fall. Maples, tulip poplars, oaks, and sycamores turn red, orange, yellow, and brown as air temperatures cool to a comfortable range in the 60s and 70s. The cool crisp air during this time of the year is a welcome change to anglers who have fished throughout the hot, humid summer months. The changing seasons create excellent conditions for anglers targeting smallmouth bass across the state.
How to fish for smallmouth bass? Watch how Matt Peters goes about it and, as he says, get "On The Juice."
How To Fish For Smallmouth Bass
Smallmouth bass frequently referred to as smallies or bronzebacks, are a freshwater member of the sunfish family: Centrarchidae. Their green and brown sides are often marked with vertical black bars. Some of these fish have war paint-like markings extending horizontally and diagonally behind their eyes and across their gill plates. Smallmouth bass are native to the Great Lakes system and the Mississippi River Basin, including the Tennessee and Big Sandy River Drainages of Southwest Virginia. However, these game fish have been introduced across the Piedmont of Virginia and are indeed a worthy opponent on rod and reel.
Because of the smallmouth's widespread range in Virginia, they are readily available to anglers fishing west of the coastal plains above the fall lines of our major river systems. This allows anglers who reside in cities and large metropolitan areas to fish locally as smallmouth opportunities are plentiful. The James River in Lynchburg and Richmond, Rappahannock River in Fredericksburg, Rivanna River in Charlottesville, Maury River near Lexington, and the New River in Blacksburg are fine examples of local opportunities.
The mainstem and larger tributaries of these rivers are full of smallmouth. Anglers in Northern Virginia can focus efforts on the Upper Potomac River as well as the Shenandoah mainstem, North Fork and South Fork. The North Fork of the Holston River and the Clinch River provide excellent smallmouth opportunities in Southwest Virginia. Floating these larger rivers in a canoe or raft can be a great way to cover water, remember to wear your life jacket. You can also wade fish these rivers and their tributaries in lower water conditions.
The Ever-Changing River Conditions
Rivers and streams across Virginia are typically in low flow conditions on average years as summer moves to early fall. As the days get shorter and air temperatures drop, water temperatures will soon follow. As water temperatures cool from the upper 80s down to the mid-70s and eventually the upper 60s, smallmouth will become very active. While the smallmouth's metabolism might be highest in warmer water temperatures, these conditions can sometimes make the fish a bit sluggish, especially on bright sunny days in the heat of the summer. Therefore, the cooling trends that occur in early to mid-fall can oftentimes put smallmouth on the feed.
Also, as water temperatures drop, dissolved oxygen will increase. During the hottest summer months, smallmouth often congregate at the heads of riffles in broken water where dissolved oxygen levels are highest. It's the fall cooling of water temperatures that can spread more smallmouth out evenly throughout various habitats, from riffles and pocket water to long runs, pools, and flats. Smallmouth can also disperse when significant rain events occur throughout fall, and river levels rise from typical low late summer and early fall flows.
As mid-fall progresses into late fall, water temperatures will drop even further. As water temperatures drop into the mid to low the 50s, smallmouth will stage in transitionary water between their summer habitat and deep overwintering holes. In Virginia, this oftentimes happens from late October through the middle of November. Look for smallmouth on the edges of dropoffs and congregating around river points and bends. During this transitionary time, smallmouth can also be found in the middle sections and tailouts of deep riffles holding around structures like log jams and giant boulders.
Smallmouth Fishing In Early Fall - Techniques and Approach
Topwater lures and flies will continue to produce good numbers of smallmouth bass throughout the entire month of September and well into the month of October. Anglers should take advantage of this last opportunity to fish on the surface before winter kicks in. Popular topwater lures that anglers enjoy fishing in the summer will also be productive in early to mid-Autumn. Keep buzz baits, Whopper Ploppers, Zara Spooks, Heddon Tiny Torpedos, and the Rebel Pop-R in your box of topwater lures.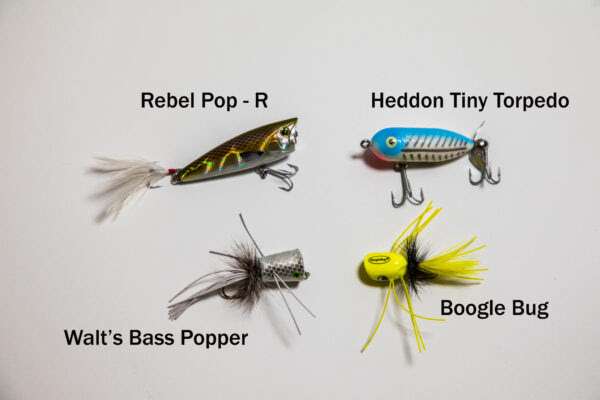 For fly fishing, make sure to keep your fly box stocked with your favorite poppers. Including Boogle Bugs, Double Barrel poppers, and Walt's Bass Popper in various sizes and colors in early fall. It's best to experiment with your retrieve to determine if the fish are looking for fast or slow action. Your retrieve and approach can also depend on the type of water you are fishing and the action of your fly or lure. Sometimes in choppy riffles, a faster retrieve can allow the lure or fly to move more water, whereas a slower pop and pause retrieve can be very productive in flat water stretches.
Techniques and Approach During Late Fall For Smallies
As water temperatures continue to drop in late October through November, a subsurface approach is best. It's still possible to catch bass on topwater lures and flies, but you will find more fish feeding subsurface with water temperatures in the 50s. Smallmouth will actively ambush smaller forage fish as they attempt to put on weight for the upcoming winter season.
This makes mid to late fall one of the best times of the year to target giant smallmouth bass in rivers and streams. Use baitfish imitations and target the transitionary water that smallmouth occupies during this time frame. Various subsurface crankbaits, soft plastic swimbaits, flukes spinnerbaits, and jerkbaits will prove productive. The Rebel Crawfish, a crayfish crankbait, should also be in your selection of subsurface lures as smallmouth will prowl pools and flats for crayfish in the fall.
When fishing some of these subsurface lures, especially soft plastic swimbaits and flukes, it's important to apply action to the lure on occasion by quickly jerking your rod to the side and then pausing briefly during your retrieve. This will give your lure an erratic motion and imitate a stressed and injured baitfish, precisely what the smallmouth are looking for. When fishing soft plastics with a jig head, you can adjust the size of your jig head based on the depth and current that you are focusing on. Anglers can also fish a variety of different colored jigs and pigs for targeting late fall smallmouth bass that are holding lower in the water column closer to the bottom of the river.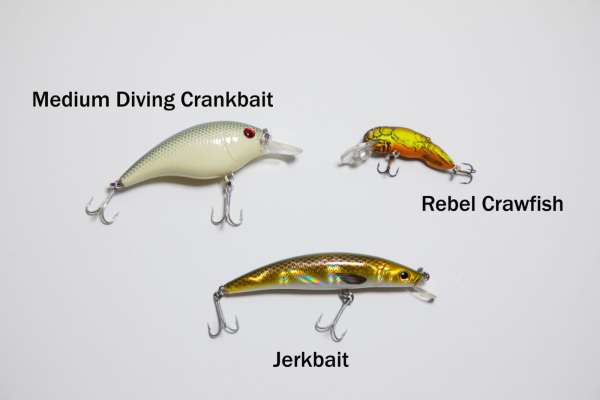 Late October through November is an excellent time to fish large streamers for big smallmouth bass. When fly fishing in mid to late fall, consider fishing with a sink tip or a 250-grain full sinking line in the deeper riffles and pools on our larger rivers. Sometimes it pays off huge when you can get your fly down to the fish during this time of the year, especially in the latter part of the season as winter approaches.
Opportunities for great success in the fall fishing Bob Clouser's Clouser Minnow, Lefty Kreh's Deceiver, as well as the combination of the two patterns: the Half & Half. Large articulated streamers initially developed for trout fishing in western states like Montana, Colorado, and Wyoming will also be productive on fall smallmouth.
Kelly Galloup's articulated streamer patterns from Montana work well, and most of these flies have extensive profiles as some are tied with wool or spun deer hair heads. Charlie Craven's patterns from Colorado are also quite productive on our Virginia smallmouth. The profile of these large articulated streamers attracts fall smallmouth, and these patterns swim well through the water as they are articulated.
The multi-sectioned Gamechanger tied by Blane Chocklett also works quite well this time of the year. You should also carry large bead-head or conehead Woolly Buggers. Fishing this classic pattern in sizes 2-4 in black, dark brown, and olive. Chuck Kraft's Crawdad and Harry Murray's Hellgrammite are productive patterns to smallies lower in the water column this time of year.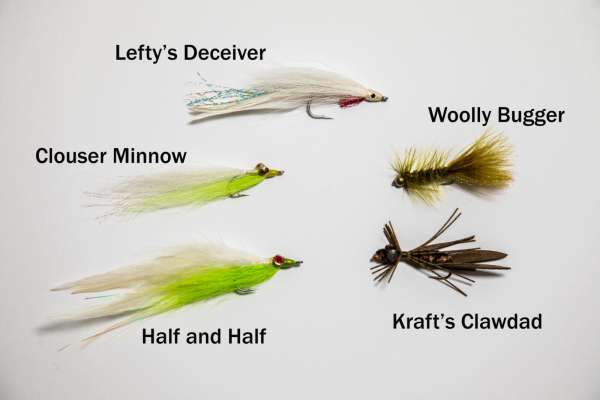 Autumn can be one of the most pleasant times to target smallmouth across the Commonwealth. Anglers will enjoy cooler temperatures and wearing waders when fishing these rivers during this time of the year. As the season progresses from October into November, it's essential to bring a dry bag with a towel and an extra change of clothes for safety precautions due to cooler water and air temperatures. Make time to get out this fall and take advantage of the prime fishing conditions for smallmouth bass.